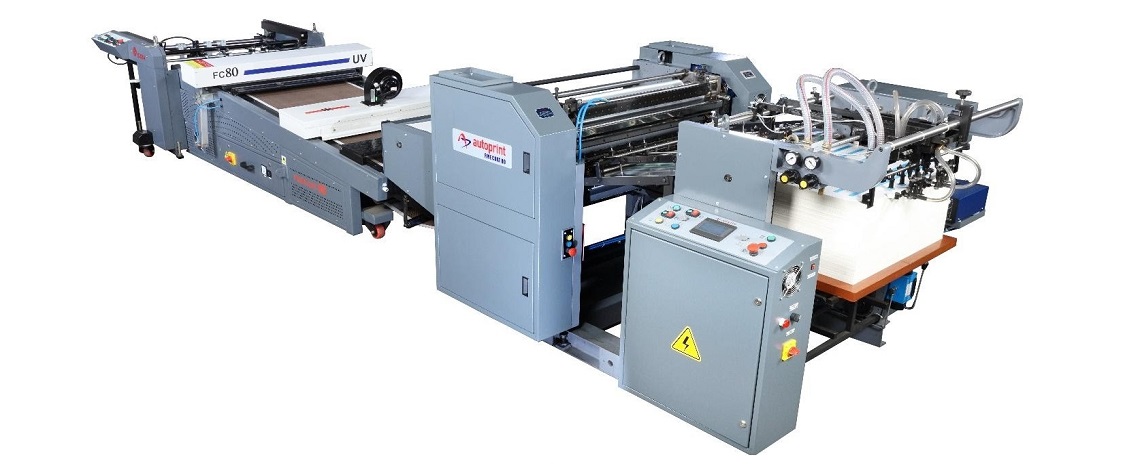 10-12-2020 | Autoprint
What is UV Coating?
UV coating, is a surface treatment process where liquid UV ink is applied to a printed paper surface and cured on a special machine (autoprint fine coat series) using ultraviolet light. The coating hardens or cures when it is exposed to the ultraviolet radiation.
Ultra Violet coating makes printed material, stand out and is ideal for products like leaflets, visiting cards, presentation folders, catalogues, cartons and almost all packaging oriented printing. This will help products move off the shelf faster than non UV printed material.
What are the Benefits of UV Coatings?
The ultraviolet coating has several advantages over other coating methods like aqueous coating or varnish. They include:
1) Very high shine finish
When UV coating is applied, on dark, rich colours like shades of black and blue, the result is similar to a wet appearance. This can be highly effective with image-rich projects, like product catalogues or photography brochures. The stunning shine it creates is why it's so popular surely designs and products.
2) High clarity
UV coatings make details pop and stand out and are perfect for photographic images and company logos. Check out our AUTOPRINT gallery to see for yourself the impact this coating machine Environmentally friendly
UV coatings are free of solvents and do not emit volatile organic compounds, or VOCs when cured.
Paper coated with UV coating can be recycled much like any other paper based substrate
Instantaneous drying time with UV light exposure
By drying so quickly, the utilization of UV coating helps reduce production time, enabling earlier shipping and delivery times.
3) Good abrasion resistance
If your printed piece goes to be handed out or travel through the mail, the mixture of a visually appealing piece and sturdiness makes UV coating an excellent effect for postcards, brochures or business cards. The UV coating allows the mailed piece to resist smudging and marking and allows it to take care of knowledgeable, high-quality appearance thanks to a particularly hard finish, one known for being both chemical and abrasion resistant.
4) More Ways to Make You Shine
Coatings allow you to actually make your printed piece stand out. Depending on what quite result you would like to realize, coatings work to reinforce the specified outcome. Use UV coating to form those rich, full-colour photos stand out, allow your strong graphical elements to pop, and really showcase your products.
Spot UV coating is another good way to feature dimension, it's utilized by only applying UV coating to certain locations on your piece. This effect highlights certain spots and draws the attention, so you'll direct the reader's attention.
Auto print fine coating series is a great option when you want to print a velvety, matte look and feel to your piece. Its tactile appeal makes it a perfect option for postcards, brochures, business cards and hangs tags. Words cannot describe how luxurious this coating feels.
An Automatic UV coating machine like the Autoprint Fine coat 80, Autoprint Fine Coat 65 and the Autoprint Fine Coat 80 Drip Off coating machine can largely benefit a printing press by producing high quality output at an extremely affordable price.
The Fine coat series is known for its reliability and extremely fast Return on Investment. This Automatic UV coating machine series put Autoprint Machinery on the map. The product has been sold in over 30 countries and has a near 0 failure rate.
The Autoprint UV coating series can be used to accomplish multiple types of UV coating. The following are a few examples: -
Full coating-(glossy & matte)
Aqueous coating
Spot coating
Spot not coating
Velvet coating
Texture coating
Blister coating
Food grade Barrier coating
We at Autoprint believe that UV coating machines and Automatic UV coating machines have an extremely large potential in the Print and packaging industry where it can be used to protect and promote and printed material.
Visit: https://www.autoprint.net/embellishment-uv-coating/ for more details.