From zero to over 12500+ installations, exporting to more than 50 countries in a span of just 30 years, the Coimbatore, India, based AUTOPRINT has emerged as a market leader in the offset printing and allied machinery manufacturing industry.
AUTOPRINT is proud of its role in significantly altering the global perception of Indian Printing Machines.. Made in India to global standards, this company's products have found wide acceptance and acclaim in various countries around the globe.
In keeping with times, Autoprint in 2007, shifted focus from printing to packaging and started manufacturing and selling post press machines that include, Coating machines, Die punching machines, Variable data printing, Carton inspection and other related machines.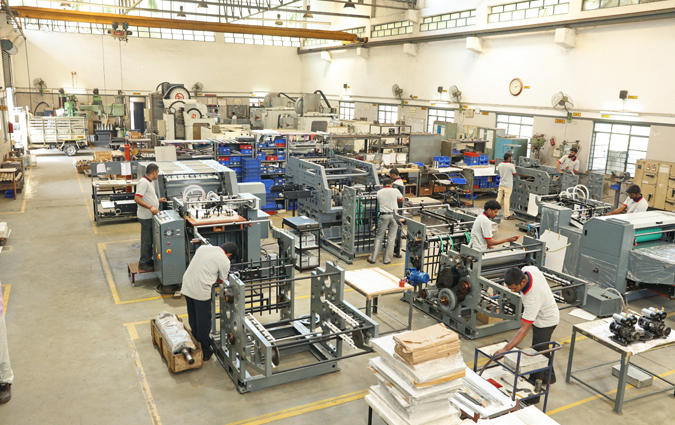 Obsessed with quality, Passionate about printing.
Driven by innovation and customer needs.
Investing in people; Building strong relationships.
Striving for excellence
Winning awards. Earning customer confidence.
Reaching every corner of India. Reaching out to the world.
AUTOPRINT has the distinction of having at least one installation in every district of India.
AUTOPRINT designs and launches one new product every year.
AUTOPRINT Manufactures and sells three machines a day.
Apart from these statistics, there are countless other features that go into making AUTOPRINT a leader in this dynamic and demanding printing industry. Foremost among them is its obsession with quality, and an un-wavering commitment and passion to offer products and services on par with global standards. It's indeed this obsession to produce the best that has paid rich dividends to AUTOPRINT in the form of Rajiv Gandhi National Quality Award for achieving excellence in the small scale manufacturing industry.
The year 2002 was a momentous year for AUTOPRINT and its team. This company was honored with two recognitions: One is the ISO 9001 certification from TUV Suddeutschland AG, for design, production and marketing of entire product range; the other is the recognition as the stalwart of this printing industry at the National Awards for Excellence in Printing. AUTOPRINT also has the distinction of bagging the 'Best Technology Award' from the National Small Industries Corporation, 4 times in a row.