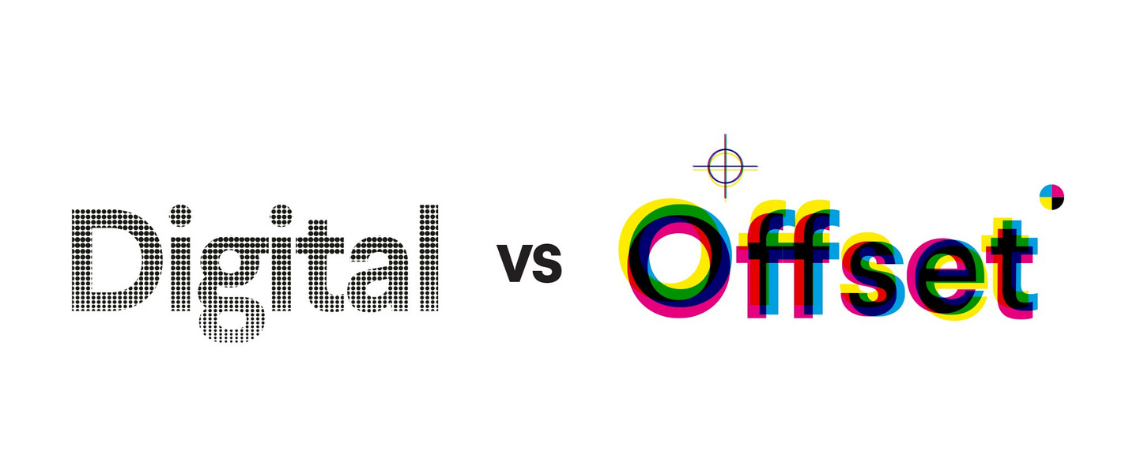 03-05-2021 | Autoprint
So, what's the difference between digital and offset printing? Let's take a look at these two printing methods, their differences, and where it makes sense to choose one or the other for your next printing investment.
What is Offset Printing?
Offset printing is an indirect printing process. This means that in the print process a cylinder covered with a rubber blanket is set up between the printing plate which is made out of aluminum and the paper or any other suitable substrate. This is so the printing ink is transferred indirectly on the sheet. The name offset is hence derived. Because offset presses run so efficiently once they are set up, offset printing is the best choice when larger quantities are needed, and provides accurate color reproduction, and crisp, clean professional looking printing. Offset printing traditionally produces the highest quality available on the widest variety of stocks and offers the highest degree of control over color. Mini offset printing falls under the same. This machine is termed mini offset because it is a miniature version of an actual offset printing machine where one or two color jobs can be printed. Some even print 4 color jobs using mini offset printing machines  .
What is Digital Printing?
Digital printing is a method of printing from a digital-based image directly to a variety of media. This is more of a direct printing process. Digital printing does not use plates the way offset does, but instead uses options such as toner (powder ink) or larger printers that do use liquid ink. While offset printing is a fantastic way to produce great-looking print projects, many businesses or individuals do not need large runs of 500 or more, and the solution is digital printing.
The benefits of offset printing
Superior image quality that is reliable. You can count on offset printing for clean, distinct type and images without streaks or spots
Better color fidelity, which refers to both the accuracy of the colors and their balance in the design. Because offset printing can mix custom color inks for each job, it's naturally going to get the colors spot-on.
Works equally well on almost any kind of material.
For large volume jobs, you get more for your money.
The drawbacks of offset printing
High cost of low-volume jobs.
Longer timetable since plates need to be created.
Errors has to be noted sooner to avoid wastage.
The benefits of digital printing:
Faster turnaround time
Each print is identical.
Cheaperfor low volume jobs.
Changing information within a single print job.
The drawbacks of digital printing:
Fewer options in materials you can print on.
Less color fidelity is possible with digital printing because digital jobs use standard inks that cannot exactly match all colors. Offset jobs use specially mixed inks, which will always be a closer match. Digital is improving and getting closer with blended inks, but those inks still do not match as well as a custom mix.
Higher cost for large-volume jobs
Lower quality, sharpness and crispness compared to Offset printing.
| Offset printing | Digital printing |
| --- | --- |
| High image quality | Less compared to Offset |
| Works on wide range of printing substrates | Limited substrates |
| Cost effective solution for high volume | Not affordable for high volumes. Cost effective for low volumes. |
| Folding operation of paper will not damage the printed image. | Folding operation of paper will damage the printed image and develop cracks |
| Screened jobs will be easily executed | Not an easy job |
| Consumable cost - affordable | Consumable cost – comparatively high |
| Maintenance cost - affordable | Maintenance cost - comparatively high |
The right fit for my next project?
Both offset and digital printing are useful printing methods. The machine has to be chosen wisely by the printer according to the project requirements. For low run or short run jobs the solution is digital printing machine and for high run or larger run jobs the solution is offset printing machine.  The best part is that as a business, your needs can be met with either of these choices, and the high-level of quality means you get a printed product that will make you look great!