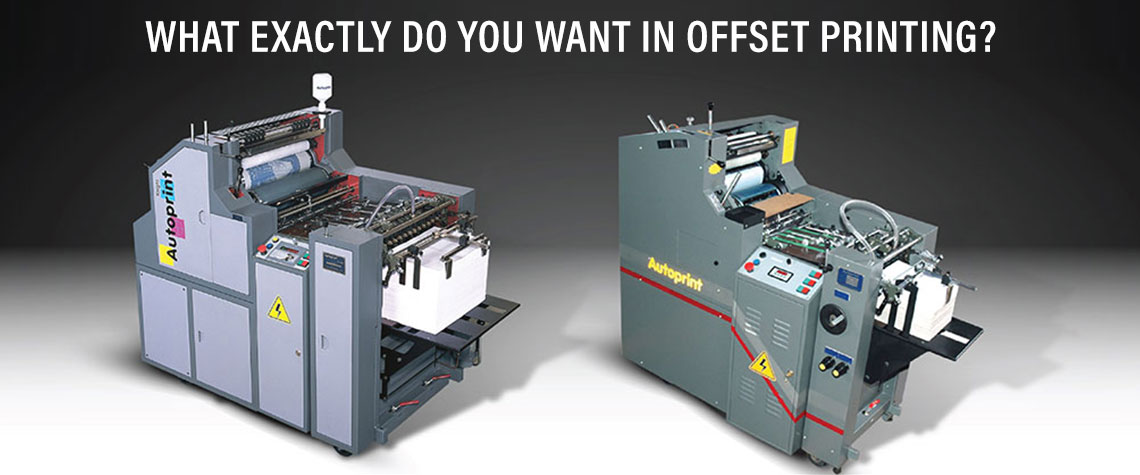 15-06-2021 | Autoprint
To figure out exactly what you want in offset printing, you will need to do some real time work. You cannot get everything you need in long run printing job by just resting and letting those firms/companies decide things for you. The key is to show initiative and of course think of the things you want in offset printing.
For those who do not know how to start the process of mini offset printing/offset printing, below are some distinguished tips. These steps should help you to slowly determine what exactly you want in printing and of course get them accurately for your purposes.
1. Take a lot of suggestions – If you want to get what you need in offset printing, you have to know a lot about the process and the different firms that you will be working along. One of the best sources of this kind of knowledge is your social environment. In your business, you are bound to have many colleagues and friends that have worked with offset printing services before.
Make sure that you take all their suggestions into account before you actually get into an offset printing process. This knowledge from your social network should help you discover the unwritten rules and special tricks that should help you get more of what you need from the offset printing services.
2. Note down all possible offset printing firms – Part of getting what you need from offset printing is of course choosing the right printing service that has all that you actually want and more. So it is important that you be attentive with your search.
Try to list down all the convenient offset printing firms that you can find in the yellow pages, in your community and even online over the Internet. Make sure that you judge each fairly according to quality of prints, accessibility and overall cost. Choose the one that is of course affordable but also highly skilled with high quality print samples.
3. Get to know other professional add-ons to offset printing – It is also a good idea to review what other people are doing with their offset printing orders. This is especially true if you can review how those big and professional firms are choosing their printing materials and requirements. And list down the additional machines for aesthetics job requirements.
This will give you the right idea on how a real professional print press should work, and how your own prints should operate to match those professional standards. Try to get in touch with other bigger partners about this, or sometimes just talk to the printing company itself as they might have suggestions on the best professional requirements for offset printing.
4. Be sure about your own requirements – Of course, to get exactly what you want from the printer, you should then list down and try to be more specific with your own requirements. Are you particular with the paper materials? How about the ink and colour quality? How about the size? How about the coatings, cuttings and bindings? You should know for yourself what you need for your prints so that you can easily translate this into your order for offset printing.
5. Search through your list carefully – Finally, you can then choose the best offset printer provider from your list. With all the important requirements already mentioned above for you, it should be easy to actually short list what you want from the printing services. You will have the most ideal printer with the best choice simply because you analysed everything through for offset printing.
6. Finding out about the raw materials market – Once you decide the firm to purchase from and complete the deal, the next thing to look into is the raw material purchase. Find out economical raw materials suppliers with high quality products such as papers, plates, ink, press room chemicals etc... For example: One such special trick is finding out the alternative for aluminium plates for mini offset printing. And that alternative is Polymaster plate, which most of them in the industry are not aware of (for one time jobs – a more economical option)So this is how you can find what exactly you want from your offset printing machine and machine provider. Read it again of course so that you can remember and apply what you have learned.