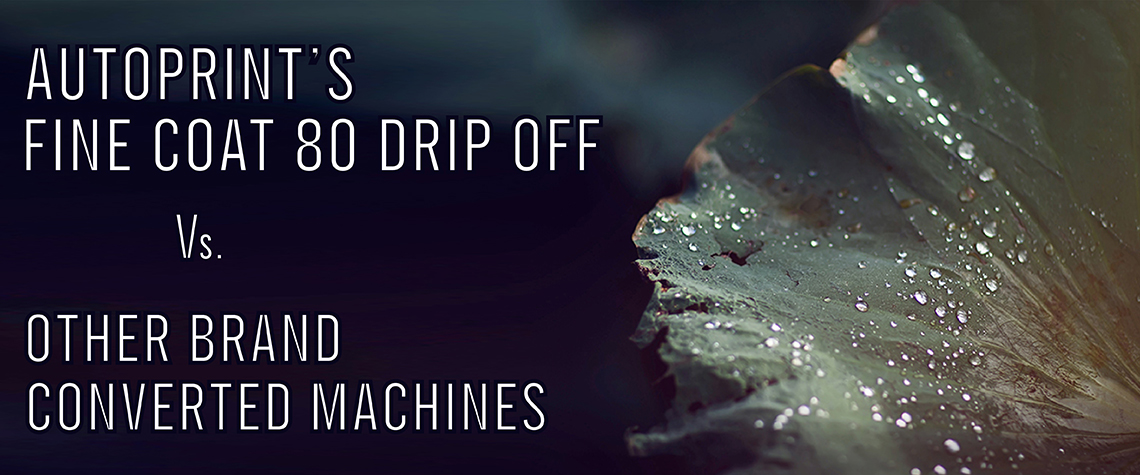 WHAT IS DRIP OFF?
Drip off printing is used to get a matte/gloss effect or structure in just one single coating. ... Drip off printing can be done on small to large surfaces. Often, it is also combined with UV printing technique wherein the process is reversed and first matte coating is applied, then glossy
Drip Off represents an efficient and eye-catching method to achieve matt/gloss effects or matt/structure effects in a single process with just one coating unit.
Depending on the primer, application amount and the setting of your printing press (power of UV lamps), you can achieve medium to strong structures which provide a highly visual and haptical difference compared to the high gloss coating. The systems are characterized by a very good scratch and scuff resistance.
DRIP OFF PRINCIPLE:
"In the last ink duct, a primer is partially used. Out of the coating unit, a high gloss coating is applied full area. Where primer and high gloss coating meet, a repellent effect is realized. Where the primer has been left out, you realize high gloss surfaces"

WHY AUTOPRINT DRIP OFF IS BEST COMPARED TO CONVERTED BRANDS?
Autoprint in an Indian based company which strives to give its customers the best quality without any compromises.
When compared to Autoprint other converted machines are originally been manufactured for some other needs and purposes. But are made to change its purpose of work and is been attached machines of other brands to perfume a totally different kind of job.
This not only damages the machine spares but also do bad to the quality of the print. The regulations of the UV inks cannot be monitored in the Converted machines.
Once if the spares are damaged it cannot be purchased that easily as the machines used for converting are already 15 – 20 years old, used and outdated in the market.
WHY AUTOPRINT DRIP OFF AND CONVERTED MACHINE:
AP: Machine built for coating exclusively
Others: Machine built for printing. Converted for coating
AP: All parts which are in contact with coating are made of hard chrome plating or stainless steel Inter-deck lamp in focused on transfer cylinder.
Others: Contact parts with varnish are not made of UV ray resistible grade steel as initially designed for printing may lead faster wear and tear due.
AP: Two sets of cleaning systems/tray provided so that switch between aqueous and UV can be done very quickly (within 10 minutes)
Others: It takes more time as whole system needs cleaning and additional tray is not provided. This adds more time for change over (15min on each job change)
AP: 3 roller anilox system gives best quality of coating in print industry & no need of anilox change for UV to aqueous or vice-versa.
Others: Normally a two roller system or a single anilox system used which need to change from UV to aqueous or vice-versa. UV- Chrome coated, Aqueous – Ceramic (due to limitations). So, its time taken for job change over.
AP: Coating thickness can be controlled by 3 roller system by adjusting the intermediate pressure and also by changing the anilox roller
Others: Cannot be adjusted and only gives fixed out flow. For coating thickness change, anilox roller need to be replaced
AP: Flexo plate or Blanket cylinder of anilox unit can be adjusted circumferential or lateral movement for setting spot coating properly (simple worm arrangement provided)
Others: There is no provision for this set up. Only the image movement should be moved using the bolts of the clamps in blanket cylinder.
AP: Safety is ensured for this with optional CE certification
Others: This safety provision is not available and quite unsafe for operator
CONCLUSION:
It's always the best to go with the brand new Autoprint FC 80 AX for perfect job quality. To make your customers fully satisfied, the one stop solution will be AUTOPRINT. The after service plays an important role more than purchasing the machine, in which AUTOPRINT already has set its footprint.