DIE Punching Machine Manufacturers
Autoprint, one of the leading manufacturers and exporters of Die Punching Machines in Indonesia, We have established our global presence through extending sales & services in various other countries. Our products have gained worldwide acceptance & affirmation.
The Dextra Series can do Die Cutting, Creasing, Embossing, Perforation & Half-Cut on various types of substrates like Maplitho, Sticker-Sheet, Art Board, and Duplex Board up to 600 gsm depending on the model. Autoprint's die punching machine series are the perfect solution for Pharma, Health Care, and FMCG industry. These machines are highly suitable for replacing manual Die-Cutting Machines.
Product Features
You Will Get These Features In Our Die Punching Machine.
The Versatility of Die Punching Machines
Die-punching machines excel in a multitude of applications, including
Paper and Cardboard Industries: These machines are essential for creating intricate designs in packaging and card making.
Automotive Manufacturing: Precise holes and shapes in automotive parts are made possible by die- punching machines.
Leather Goods Production: Crafting leather products, from belts to wallets, relies on the accuracy of die punching.
Textile Industry: Clothing and fabric manufacturing benefit from clean and uniform cuts achieved with die punching.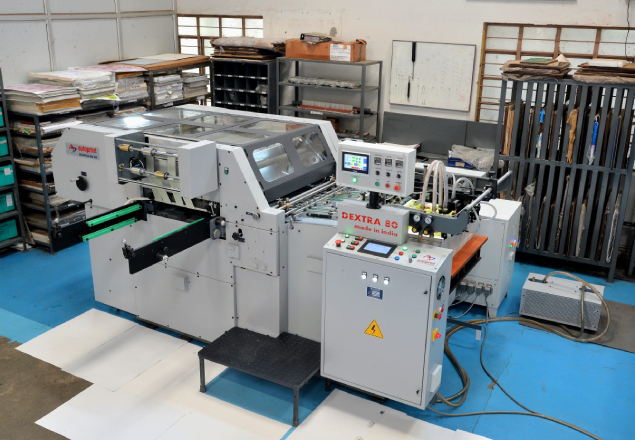 The Applications of Die Cutting Machines
Why Choose Autoprint
All of AUTOPRINT's products share common characteristics that reflect our unwavering commitment to delivering exceptional value to our customers. These defining traits encompass customer-centric product design, and a continuous pursuit of innovation while ensuring cost-effectiveness, all reinforced by our unwavering dedication to providing robust after-sales service and support.

Within AUTOPRINT, our Research and Development center houses a dedicated team of professionals who tirelessly strive to anticipate and meet the evolving needs of our valued customers. Autoprint is a customer-focused company that combines innovative product design with cost- effectiveness and strong after-sales support to deliver value and satisfaction to our valued customers. Our R&D center plays a pivotal role in keeping us at the forefront of technology and customer service.